F1: Piastri wins Qatar GP Sprint, Verstappen wins World Title
Sensational rookie Oscar Piastri has won the Qatar GP Sprint race ahead of Max Verstappen who clinched his 3rd straight F1 World Championship.
–by Mark Cipolloni–
Driving like a veteran and keeping his cool, polesitter Piastri led from the start, was then passed by George Russell on softer tires but got the lead back when Russell's tires went off and he fell back to 4th.
"It was a very stressful race, when all the soft guys came through at the beginning I thought we were in trouble, but then they fell away pretty quickly," said Piastri.
"I think we did a very good job. First Sprint win sounds pretty cool!"
Verstappen, on the same Medium tires as Piastri, ran out of laps to catch Piastri due to the three safety car periods that reduced the actual racing laps to just 12 of 19.
With the 2nd place finish, Verstappen locked up his third straight World Driving Title.
As 'We are the Champions' blared out over the speakers, Verstappen was out of his car, arms raised.
"A fantastic feeling, it's been an incredible year," said Verstappen.
"I feel super proud, but super proud of the job of the team. We'll keep on pushing but of course I'm incredibly happy at the moment."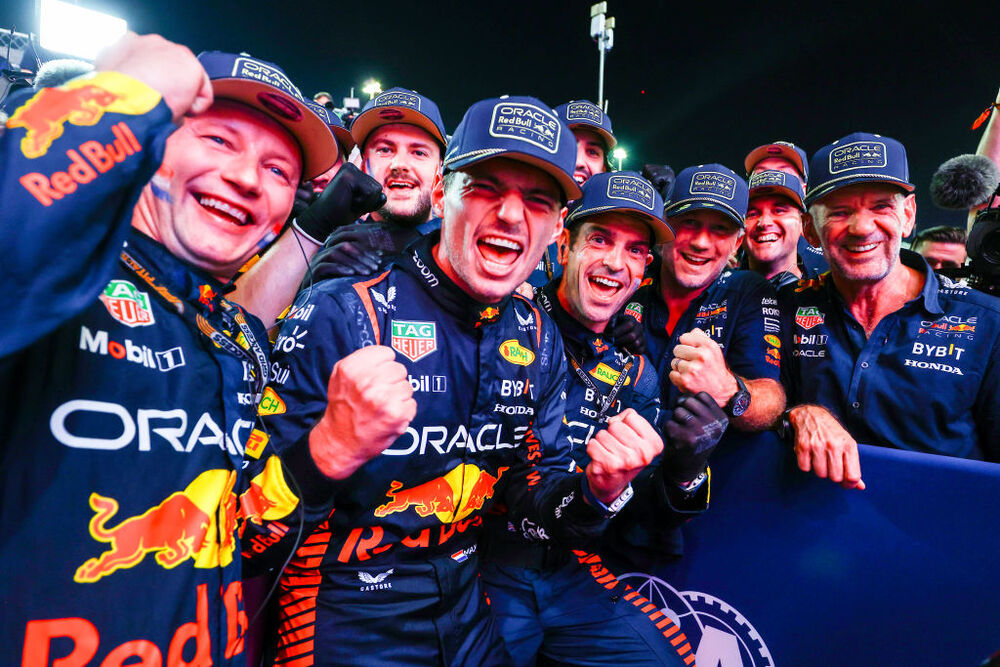 Lando Norris came home third in the 2nd McLaren, 8.5s behind.
"First of all congrats to Oscar, and congrats to Max. First win, before mine, so well done. It was a tough fight, not the best of beginnings, but a good ending. I've been trying [to win] for a long time, but Oscar has done a better job, so hats off to him."
Russell was 4th ahead of his teammate Lewis Hamilton, who used his medium tires to pass all the struggling soft tire runners ahead of him to round out the top-5.
The three caution period were for two rookies, Liam Lawson and later Logan Sargeant running out of talent and losing control and spinning off into the pea gravel all by themselves.
The final safety car period was caused when Esteban Ocon, Nico Hulkenberg and Sergio Perez came together fighting over the same piece of tarmac.
The 19-lap event featured three safety car periods and was characterized by the drivers opting to use soft tires making passing cars early on, before falling back as the race wore on with their rubber falling off.
While this weekend is obviously all about the Dutchman, Piastri deserves a mention as well. As Norris alluded to in the interviews there, Piastri is the first out of the two teammates to taste victory in the world of F1, even if it is in a Sprint rather than the real thing.
He's a real talent no doubt, and Norris is going to have his work cut out to stay ahead of his talented teammate.
Qatar GP Sprint Race Results
| | | | | | | |
| --- | --- | --- | --- | --- | --- | --- |
| POS | NO | DRIVER | CAR | LAPS | BEHIND | PTS |
| 1 | 81 | Oscar Piastri | Mclaren Mercedes | 19 | +0.000s | 8 |
| 2 | 1 | Max Verstappen | Red Bull Racing Honda | 19 | +1.871s | 7 |
| 3 | 4 | Lando Norris | Mclaren Mercedes | 19 | +8.497s | 6 |
| 4 | 63 | George Russell | Mercedes | 19 | +11.036s | 6 |
| 5 | 44 | Lewis Hamilton | Mercedes | 19 | +17.314s | 4 |
| 6 | 55 | Carlos Sainz | Ferrari | 19 | +18.806s | 3 |
| 7 | 16 | Charles Leclerc | Ferrari | 19 | +19.860s | 2 |
| 8 | 23 | Alexander Albon | Williams Mercedes | 19 | +19.864s | 1 |
| 9 | 14 | Fernando Alonso | Aston Martin Mercedes | 19 | +21.180s | 0 |
| 10 | 10 | Pierre Gasly | Alpine Renault | 19 | +21.742s | 0 |
| 11 | 77 | Valtteri Bottas | Alfa Romeo Ferrari | 19 | +22.208s | 0 |
| 12 | 22 | Yuki Tsunoda | AlphaTauri Honda | 19 | +22.863s | 0 |
| 13 | 18 | Lance Stroll | Aston Martin Mercedes | 19 | +24.523s | 0 |
| 14 | 20 | Kevin Magnussen | Haas Ferrari | 19 | +24.970s | 0 |
| 15 | 24 | Zhou Guanyu | Alfa Romeo Ferrari | 19 | +26.868s | 0 |
| NC | 27 | Nico Hulkenberg | Haas Ferrari | 11 | DNF | 0 |
| NC | 31 | Esteban Ocon | Alpine Renault | 10 | DNF | 0 |
| NC | 11 | Sergio Perez | Red Bull Racing Honda | 10 | DNF | 0 |
| NC | 2 | Logan Sargeant | Williams Mercedes | 2 | DNF | 0 |
| NC | 40 | Liam Lawson | AlphaTauri Honda | 0 | DNF | 0 |